July 20, 2020
Exploring Senior Care Part 3 of 3: Choosing the Right Assisted Living Community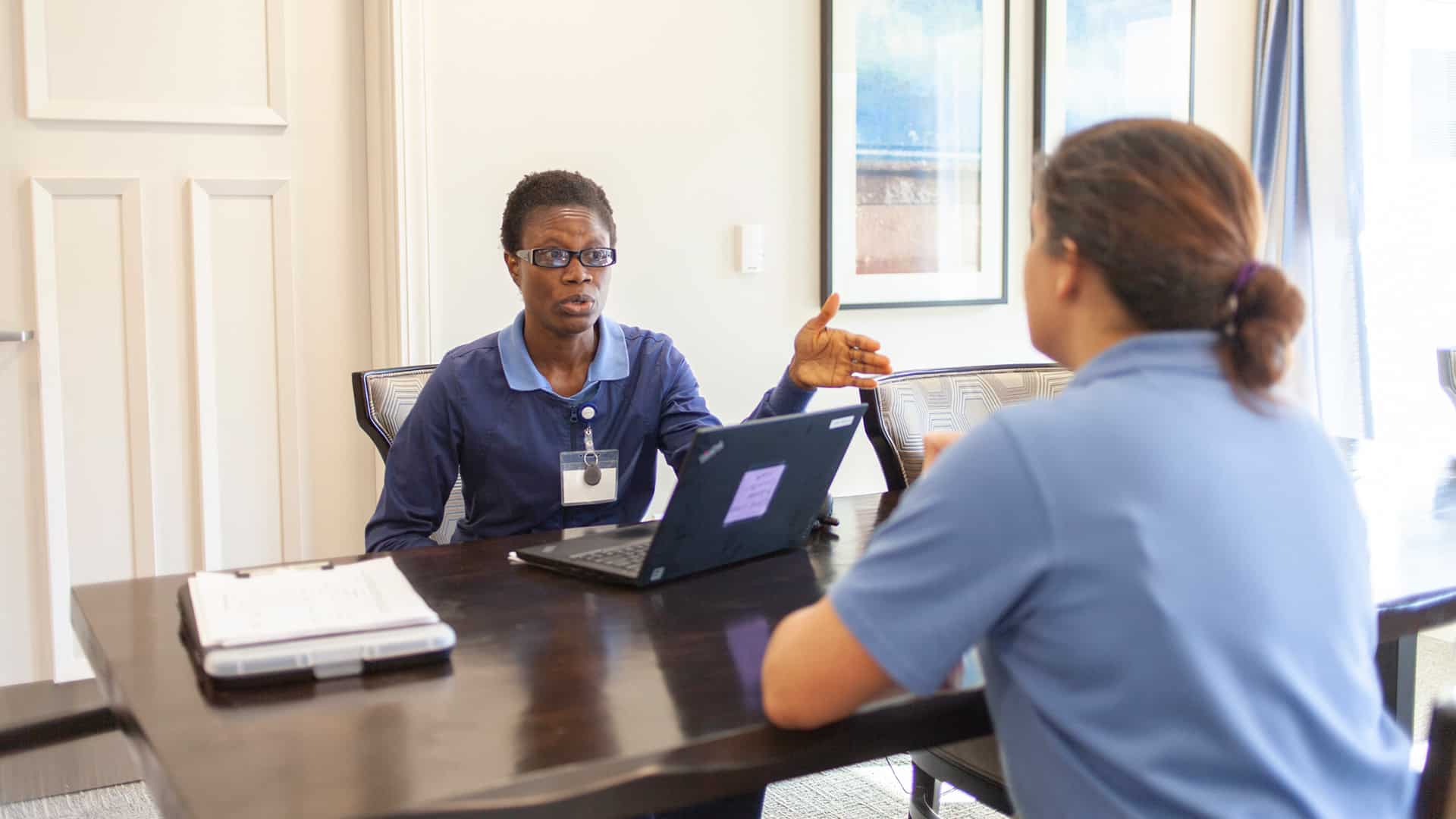 As your parents or loved ones age, it often becomes your responsibility to decide where they should live. While this is never an easy decision, there are some signs to look out for when evaluating different options.
Below are some common traits and experiences that may indicate that your loved one is ready to move into an assisted living and memory care community:
Aggression – People struggling with dementia or confusion can often respond with more aggression towards those around them.
Caregiver Stress – The physiological toll of being a caregiver for your loved one has been likened to the effects of PTSD. Caregivers may experience avoidance behaviors, disabling anxiety, hypervigilance, intrusive thoughts and more. This stress does not only result from the responsibility of taking care of someone with dementia, but from the disruptions of normal eating and sleeping patterns that arise due to caring for a loved one.
Escalating Care Needs – When the level of care needed by your loved one exceeds your ability, this is often the time many caregivers look for other options.
Home Safety – In regards to your loved one's health and the current care they have, are they no longer safe in their own home?
Sundown Syndrome – This is characterized as very agitated behavior that becomes more pronounced later in the day and is common with dementia patients.
Wandering – Has your loved one left their home and gotten lost? Wandering can be an early sign of dementia. Assisted living communities with memory care services are designed to ease anxiety and confusion and increase safety.
Isolation – If your loved one is isolated or withdrawn, has stopped being social or is no longer interested in their hobbies, ask them why. They may be scared to go somewhere on their own or uncomfortable in social situations that they used to find enjoyable. An honest conversation could help determine whether it may be time for assisted living.
Sadness – Even seniors who are capable of caring for themselves might struggle with depression or loneliness. Sometimes a change in living situation can improve things.
Assisted living communities are designed to help seniors with their daily activities like cooking and bathing without around-the-clock medical care. While 24-hour care from a skilled nurse is available to those who need it, many assisted living community residents might only need help with some daily living activities like cooking, getting into the shower or remembering to take their medications.
The stated purpose of assisted living communities is to maximize independence, interact with people and maintain overall health while living in a home-like environment. But beyond that, communities and services offered vary by size, staff, specialties, cost, amenities and even dining. Below are different qualities to consider when looking into different communities.
– Location: The ideal location is close to home or near loved ones. Each community's location affects how they operate due to local laws. Key differences in operations include medical assistance required and cost. You can learn more about assisted living residents and providers in Missouri from the National Center for Assisted Living.
– Size: The number of licensed beds varies drastically from community to community. In fact, the smallest assisted living community in the country only has four beds while the largest has almost 500. What really matters though, and what you should ask about, is the staff-to-resident ratio. At Cross Creek, we pride ourselves in having a high staff-to-resident ratio that allows us to give our residents attentive, optimum care around the clock. Size can also affect the type of amenities offered. Many larger communities, like Cross Creek at Lee's Summit, offer amenities like chef-prepared meals, interactive artwork and an on-site spa and beauty salon. Some communities even include specialized units for memory care.
– Amenities: Just like any housing options you would consider, the amenities offered matter. Typical services offered include dining, housekeeping, exercise and wellness programs and help with medication. More and more recently, assisted living communities are also offering memory care help for patients with Alzheimer's or dementia. Diabetes, heart and depression programs are also on the rise. The overall goal for these communities is to enhance quality of life. By offering amenities like art and pet therapy, communal lounges and more, many communities have begun to offer more inventive options to help improve residents' quality of life. While living in an assisted living community, residents should not feel like they have given up on access to the outside world.
Cross Creek at Lee's Summit offers a blend of luxury and care. We encourage our residents to live their happiest, most fulfilled lives. Our passionate staff, secure community and deluxe accommodations allow residents to enjoy every day at Cross Creek. Learn more about the services and amenities offered here.
Cross Creek at Lee's Summit Assisted Living | Memory Care
– Transition to Higher Care: As we age, we graduate through different life stages and end of life care. Assisted living is one of the first steps of aging, but it is not the last. Many times, assisted living stops being enough as more hands-on care and 24-hour care is needed. Some assisted living facilities are part of a continuing care retirement community that allows residents to move from assisted living to skilled nursing communities as their need increases. Other communities have established relationships with health care professionals that they refer residents to once they can no longer care for a resident. Regardless, it is important to think about what type of care your loved one needs now and in the future. Ask the community you are considering about how they can meet those needs and the costs associated.
Cross Creek is partnered with Capital Health Management and can assist residents who need to transition to a higher step of care. CHM manages three skilled nursing and residential care communities in Kansas City, Missouri. All feature spacious rooms, pleasant amenities and beautiful landscaping. At the heart of each community are compassionate, highly-qualified staff members who are committed to developing long-term relationships with residents. Their staff includes licensed, registered and practical nurses, dietitians, therapists and other highly trained professionals. Find pricing and more information about each community at the links below:
– Cost: No matter what community you choose, you have to be able to afford it. Most assisted living communities are paid for with personal finances. Medicaid usually will not qualify, so residents and their families often pay for it using a combination of savings, long-term care insurance, home equity life insurance or veteran benefits. While many health professionals disagree, assisted living is considered a luxury by Medicaid. Communities also require payment in different forms, such as upfront payment, monthly rent, a la carte services and even a tiered system. Once you have found a selection of communities that you can afford, it makes sense to evaluate how you pay.
– Culture: What kind of care do you want your loved one to have? It is hard to know the exact culture of the place you are helping them move into until they are actually living there, but you can often get a glimpse based on your visits to the community. What is the staff's attitude? Do they seem to truly enjoy caring for seniors? Check out a community's online reviews, but do not make your decision based solely on an internet search. This is a commitment just like buying a house and you should treat it as such. Visit the community and talk to staff and residents. Attend a meal and get a general sense of the atmosphere. At the end of the day, you want to find a place that feels right for your loved one.
If you have any questions about assisted living and memory care, our team at Cross Creek would be happy to answer your questions. We are also offering virtual tours or socially distanced, in-person tours if you feel your loved one is ready for the next step. Call us at 316.393.1614 to get one scheduled!
Sources: